2022's First Market Update is Here!
Welcome back to monthly market updates!
We hope the first few months of 2022 have been positive and successful for you. Here at EO we are doing better than ever, having become independent in the time since our last market update. It takes a little while for enough data to gather from the beginning of the year for us to start drawing patterns for where things are going, but the time has finally come. We hope you find this March Market Update useful reading for your property plans.
Last year, an ever-increasing demand and dwindling supply saw the price of homes continue to inflate. It seems that this year, demand will not slow down, with it still being 70% higher compared to a five-year average. But that does not mean nothing has changed!
In fact, the flow of supply into the market has rebounded and is now at +5% growth. Comparing this to an index from October 2021, which saw the flow of new supply at -21%, it shows how dramatic of a jump it has been, even if the 5% figure in isolation may seem humble.
Greater supply may moderate the ongoing growth of house prices, but in fact, it secures a smoother market. This is because movers are far more likely to list their homes if they believe that they will have an easy time finding a property to move to. This leads to more transactions, and of course, more complete chains.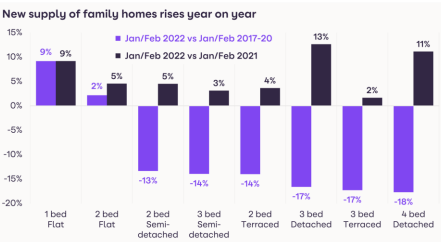 Supply is currently ahead of 2021 levels in every region.
The flow of new supply is almost at pre-pandemic levels, even if the overall total supply remains tight. Even so, the lingering effects of The Race for Space, means the average price of a property in the UK now sits at £244,100.
On top of trending upwards, price and supply-wise, the market is moving fast ­– for houses. It is found that 3-bed houses across the UK are selling within 23 days of being listed. In January, around half of all properties sold within 3 weeks of being listed. This speed means that though the flow of supply is up, it may take a while to recover total stock, as properties that are being newly listed, are also being quickly sold. In 2021, only a third of properties managed to sell in under 3 weeks in January.
Geopolitical uncertainty and incoming tax and mortgage changes may see these positive trends dampened. If potential sellers adopt a wait-and-see approach, we may see the flow of stock restricted again. Zoopla predicts that house price growth, currently at an average of 7.3% will diminish to 2-4% by the end of the year.
However, while speculation can be helpful, it is good to focus on the here and now. And for now, it seems to be the time to sell if you want to sell quickly. Especially if you own a house.
If you want to discuss the property market further, please call us on 020 3633 8911. If you want to see what the market is like for your home Click Here