House Price Growth Continues to Climb
April's Market Round Up Rolls In!
Welcome back to EO's monthly market updates.
We hope you have had an exciting and productive time during March, we have definitely seen a surge of activity as 2022 speeds along. I think it best to begin with the pressing question we usually tackle in these reports, is the market on the up and up?
To answer this, we can look at house price growth which from the latest data is sitting at an 8.1% increase. For the avid reader of the market updates, you might remember that at the end of last year this figure was +6.9%. So, house price growth has continued to increase for now, despite concern that the looming spikes in the cost of living and interest rates will deter buyers and therefore slow down price growth. It is certainly possible that prospective buyers are looking to act before these changes take effect, and this is therefore continuing to create upward pressure on prices. We will most likely find out which is which when the data from April becomes available.
The relationship between this upward trend in price growth and buyer demand is supported by demand for homes being +65% higher than the five-year average.
The flow of new supply is still +5% higher compared to a five-year average, but considering this figure is the same as last month's report, it suggests growing stability in the flow of supply. It could, however, signal a transition period before the flow of supply begins to dwindle once again.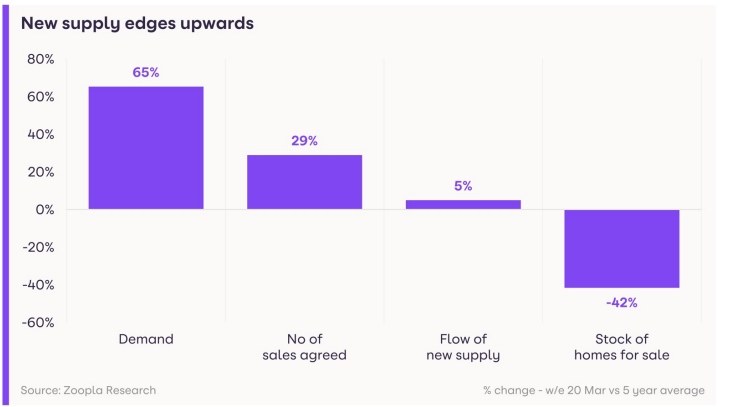 A slow down in flow would rock total supply levels when considering the unseasonably high level of buyer demand, where Q1 2022 saw comparable levels of sales to Q1 2021 where the market was boosted by the Stamp Duty Holiday. In London, sales agreed have actually surpassed Q1 2021, revealing a possible trend as demand for urban areas experiences a resurgence.
Price growth motivates stock movement, especially when partnered with inflated buyer demand. All the factors above combined have resulted in overall stock for sale sits at -42% compared to five-year averages.
The sentiment seems to be then, with looming policy changes and geopolitical tension, that those looking to sell or buy should do so soon. However, while trends are useful to consider, only the individual can know what the right time to buy or sell for them is.
So, if you're looking for more tailored and specific property advice, then feel free to give us a call on 020 3633 8911
If you'd like insight on how the market may have changed since last month, check our first market report of 2022 here.
Luiz De Souza | Administrator